Digital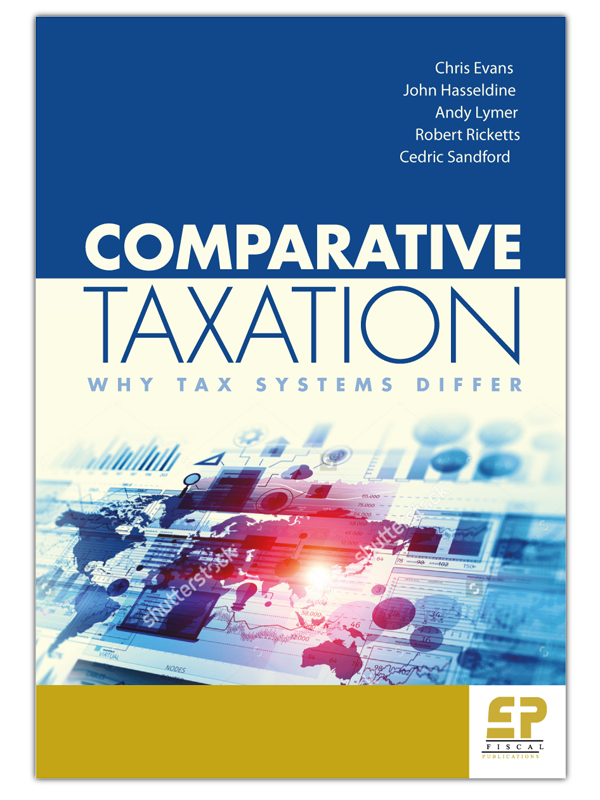 E-BOOK - Comparative Taxation: Why Tax Systems Differ
Authors: Chris Evans, John Hasseldine, Andy Lymer, Robert Ricketts & Cedric Sandford
ISBN: 978-1-906201-38-8
Published: September 2017
See moreSee less
Description
This book explores a number of critical issues related to tax systems around the world. Drawing upon a wealth of literature, it compares and contrasts modern tax systems in developed and developing countries, identifying factors that suggest they are converging and others that continue to distinguish them. It addresses the taxation of incomes (personal and corporate), wealth and consumption at the local, national, supra-national and international levels; considers the use of environmental taxes; provides an analysis of modern trends in tax administration including issues of tax complexity and of tax compliance; and addresses the process and outcomes of tax reform.
Readers will include anyone interested in how tax systems are formed, how they operate in practice, and how they are reformed.
An ideal text for academic study at the intermediate or advanced levels.
This text explores and answers questions including:
Why are the tax systems of developing and developed countries converging and how do they still differ?
Why is the property tax the most widely used tax for local government?
Why has income become the predominant tax base in developed countries?
Do we need corporate income taxes?
Why are wealth taxes relatively under-utilised in all countries?
Why have so many countries adopted a VAT as their general sales tax?Â
How do taxes help governments to deliver environmental objectives?
Can we avoid complexity in tax system design or are we stuck with it if we want effective taxes?
Why do taxpayers comply, or not comply, with their tax obligations?
Where should we go next in designing tax systems for the 21st century?
... and many others.
Authors
Chris Evans, Professor of Taxation, University of New South Wales, Australia ;
John Hasseldine, Professor of Accounting and Taxation, University of New Hampshire, USA;
Andy Lymer, Professor of Accounting and Taxation. University of Birmingham, UK;
Robert Ricketts, Frank M Burke Chair of Taxation, Texas Tech University, USA,
Cedric Sandford, Emeritus Professor of Public Economics, University of Bath, UK (deceased).
Almost everyone, from the proverbial person in the street to the most expert analyst, can learn something new from the discussion in this book about how and why taxes are structured and how they function in different contexts.

Prof. Richard Bird, Emeritus Professor of Economics, University of Toronto,
This is a most welcome, practical and pragmatic guide to tax systems around the world accessible to anyone with a basic interest in tax matters. The book is a highly useful introductory text for students starting to explore the how's and why's of tax policy and tax administration. It sketches the tax structures in developed and developing countries, examines income, wealth and consumption taxes in considerable detail, and deals with key aspects of tax policy-making and tax administration. In a most lucid manner, the authors have committed their considerable experience to paper of working in and for a wide range of diverse countries, governments and organizations.

Prof. Sijbren Cnossen - Professor bij Erasmus School of Economics
This important addition to the tax literature provides the reader with a thorough grasp of all the essential details of how tax systems are constructed and have evolved to the forms we see today. The authors, all experts in the field, have produced a text that spans the globe and addresses the design of tax systems in a comprehensive and readable style. This book should be read by anyone interested in the nature of, need for, and use of, taxation systems.

Prof. Michael Lang - Head of the Institute for Austrian and International Tax Law of WU (Vienna University of Economics and Business), Austria
At a time when big questions are being asked throughout the world about the efficacy of tax policies and their impact on social wellbeing, this book brings together a wealth of material from a wide range of sources, providing much food for thought about the various forms of taxation, their underlying rationales and importantly, their practical operation.

Prof. Lynne Oats, Professor of Taxation and Accounting, Co-Director of the Tax Administration Research Centre, University of Exeter, UK